back to all resources
Webinar
How to Maximize Customer Value with Digital Onboarding
On Demand Webinar
Design a digital onboarding strategy that accelerates customer value realization.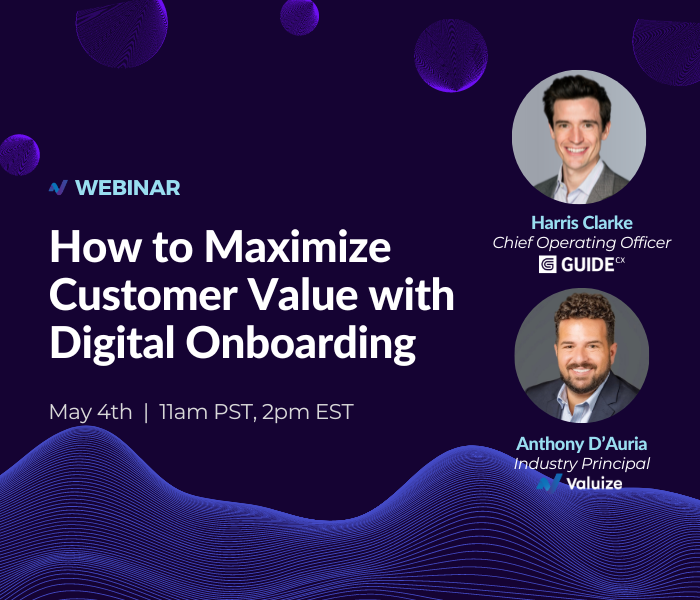 Streamline Your Customer Onboarding Process
Fast and efficient time-to-value for users is the sign of a successful customer onboarding strategy. In order to achieve this in your organization, you need to design and operationalize an onboarding strategy with the right mix of human and digital touch. By leveraging digital onboarding capabilities, you can streamline this critical stage of the customer lifecycle and reduce repetitive, time consuming tasks so that your team can focus on value-driving activities and the moments that matter.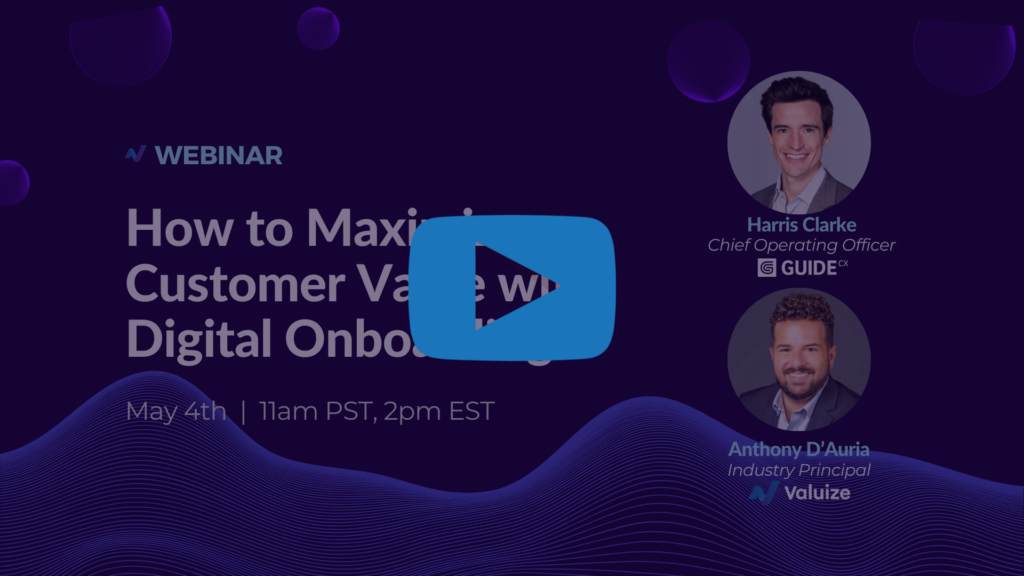 On this webinar, you will learn how to…
Incorporate both digital and human-led strategies to optimize the efficiency of your onboarding program and maximize the delivery of customer value
Take a truly customer-centric approach to create a tailored onboarding experience
Leverage transparency and empathy to turn poor customer onboarding experiences into positive relationship-building moment
Watch Webinar Now
Hear From Two Customer Onboarding Experts
On this webinar, learn from customer onboarding experts Harris Clarke, Chief Operating Officer at GUIDEcx, and Tony D'Auria, Industry Principal at Valuize, as they share how you can create a digital onboarding process that accelerates product adoption and customer value realization.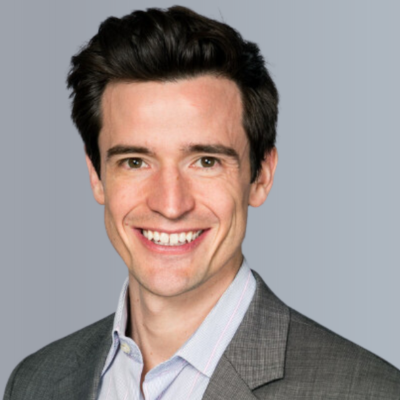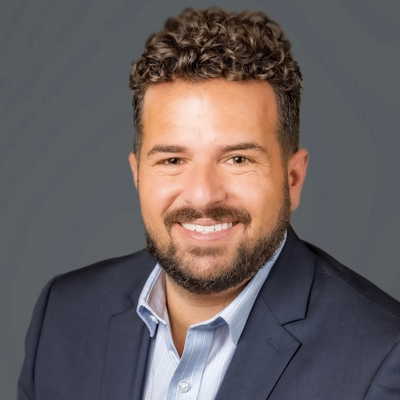 As the Chief Operating Officer at GUIDEcx, Harris Clarke brings a unique skillset from his decade-plus experience in big data, customer experience and diplomatic relations to unlock insights and provide products aimed at elevating the B2B customer experience. With time spent working in the software industry and for the State Department and Department of Justice in Washington, D.C., Harris has brought his knowledge to the forefront, building best practices that have enabled the GUIDEcx team to deliver world-class service. Those efforts were recognized on an even greater level when the company earned the coveted #1 ranking on G2's Relationship Index out of all project management tools, beating out household names and other project management tools that have been around for decades.

With over 12 years of experience in customer success, operations, leadership and process development at companies like BlackBerry and Oracle, Tony is responsible for helping companies define, build and deploy customer success strategies across their organization. Passionate about Customer Success, Tony is focused on delivering scalable outcomes that drive business growth through collaborative problem solving.