Meet Our Clients
Helping Bold Leaders Accelerate Customer Value Realization
Valuize consultants work with leading B2B technology companies to create and translate customer value into unparalleled Net Dollar Retention performance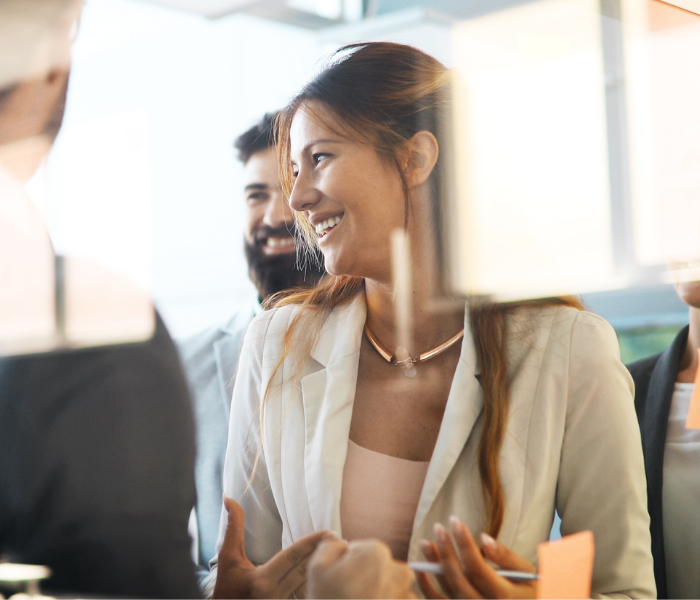 Client Spotlight
Chief Customer Officer, John Sabino, shares how Valuize helped him build and drive customer success through a unified customer experience and align an entire CSX function across multiple departments.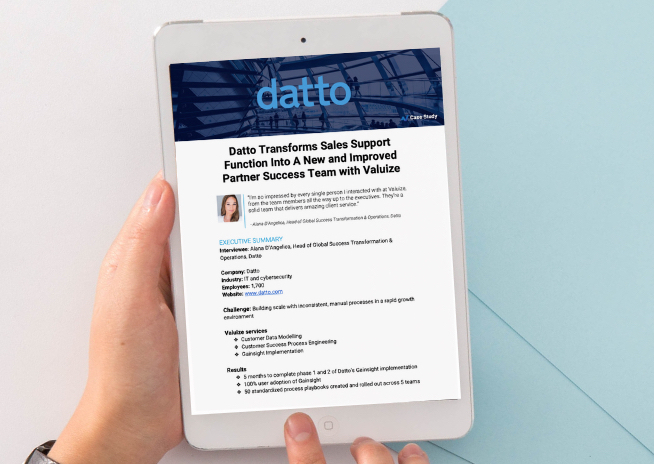 Case Study Feature
Datto Reimagines Customer Success With Valuize
In pursuit of a customer success solution, Datto partnered with Valuize to build a transformative customer success function. Discover how Datto unified their customer success team and achieved 100% adoption of Gainsight within the first few weeks of implementation.
Read Datto's Success Story
A trusted consulting partner to leading B2B TECHNOLOGY companies
What Our Clients Say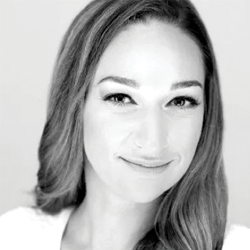 Angela D'Angelica
Head of Global Success Transformation and Operations, Datto

"We turned to Valuize because we needed to implement Gainsight at record speed to meet a critical event in our business. Not only did Valuize enable our team to meet the goal and exceed all expectations, Valuize is now a long-term partner for us driving the transformation of our customer success strategy. The Valuize team are both customer success and Gainsight experts; they are organized, detail-oriented and go above-and-beyond."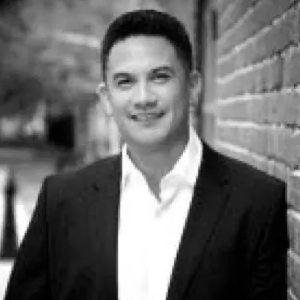 Jason Jantz
COO, readymode

"Valuize is our go-to strategy partner for all elements of our growth and customer success strategies. Over the past year, Valuize has led a transformation of how we manage our customer lifecycle. This has resulted in improved ACV, faster time-to-value for our customers, reduced revenue churn and greater expansion opportunities."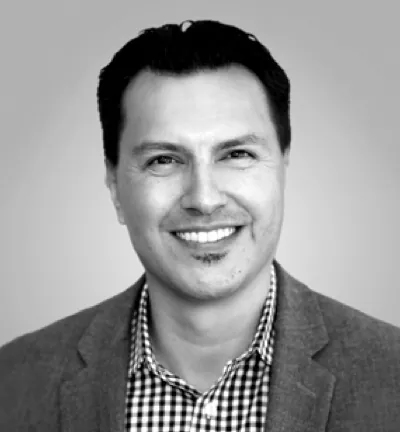 Manuel Ruiz
VP Customer Success & Technical Services, InfluxData

"At Influxdata, we knew an 'out of the box' approach to customer success would not meet our business needs or our customers' needs. We had unique requirements that spanned through a wide variety of Gainsight functionality.  We needed a partner that could understand the design of our customer lifecycle and translate that design into a bespoke customer success operation that could be scaled through data-driven insights and automation. Valuize has proven to be that partner."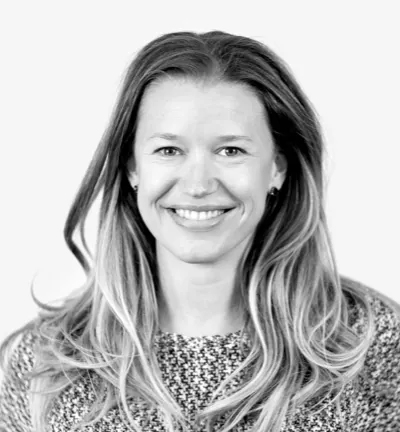 Julie Lacasse
VP Operations, TrackTik

"Our adoption of Gainsight had stalled but once Valuize joined our team they enabled us to truly adopt and realize value from the Gainsight platform within weeks…all Gainsight customers need Valuize in their corner! Valuize provided the combination of customer success strategy and technology expertise that we needed to transform our customer success processes into standardized playbooks that were data-driven and could be scaled to all our customer segments."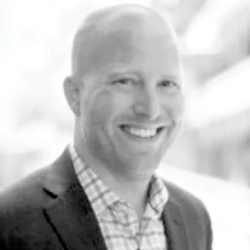 Maxwell Smith
Director of Business Transformation, Splunk

"The CS Automation program seeks to improve the efficiency, scalability, and impact of Splunk's Adoption Engine through automation, data-driven processes, and standardization. We knew we needed a partner with the right combination of customer success strategy and Gainsight expertise to help us realize that vision. Valuize demonstrated its thought leadership and experience in both – and had the best fit to our culture and ways of working."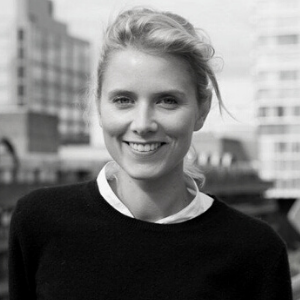 Stephanie Eltz
CEO, Doctify

"At Doctify, we were rapidly evolving our B2B2C SaaS business model and needed a partner that could help build a customer success strategy that supported this model. Valuize worked with our leadership team to drive transformation of how we approach delivering and measuring value to our customers from day 1 of the customer journey. The deep expertise Valuize has in both customer success and SaaS business models delivered reductions in churn and increases in efficiency and scale across our customer lifecycle. I recommend Valuize 1000%. Best decision ever!"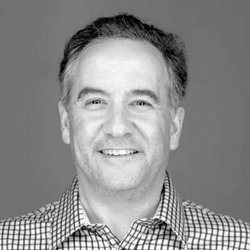 Jim Darnell
Senior Director of Customer Success, PointClickCare

"The Valuize team's ability to apply their expertise in customer success strategy, operations and technology has made them a critical partner. Valuize's ability to drive our adoption of Gainsight has been a critical part of the transformation."