back to all resources
Podcasts
Leading An Outcome Selling Transformation
Season 2 Episode 3
How can you shift your organization from a commoditized to value-driven selling motion? In this episode, Chief Customer Officer and Head of Global Success, Chris Singh, shares how Blackbaud built an outcome-driven customer lifecycle and offers his expertise on how you can leverage your people, tools and data to achieve a value-driven transformation in your organization.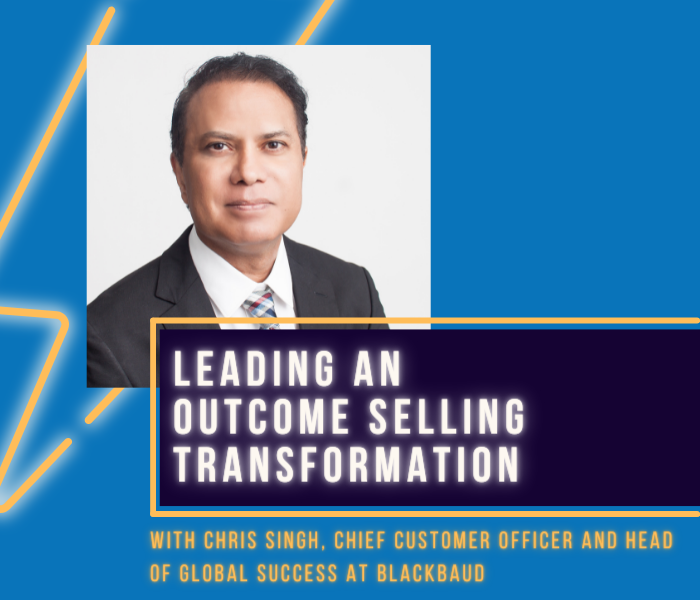 Master The Art Of Value-Based Outcome Selling
The legacy approach of selling to customers based on product features and functions alone is no longer enough. In order to meet and exceed the expectations of today's customers, organizations must shift their strategy to create an end-to-end value framework that is centered on value-based outcome selling. 
Outcome based selling is the best-in-class approach to leading with business value rather than with product features or price. By focusing on the customer's desired outcomes from the start of their journey, and relentlessly delivering them throughout the customer lifecycle, you will maximize customer value and exponentially increase your chances of driving higher retention and expansion. To reap the rewards of this model, your customers' desired outcomes must serve as the foundation on which you build out your organizational ecosystem, including your Sales, Product, Customer Success organizations; implementation methodologies; educational content; customer health scoring; and product utilization data. Organizations that fail to make this fundamental transformation will struggle to compete, and even exist, in the modern day subscription economy. What are you waiting for?
On This Episode, You'll Learn:
How Blackbaud successfully pivoted to value-based outcome selling and outcome design for the purpose of prescribing and selling value to customers
How to design outcomes that unite your cross-functional teams, enable prescriptive and tailored customer guidance, and ensure a seamless customer journey
How to operationalize value and outcome based selling in your organization through systems and data to successfully make the transition from theory to execution
"Many years ago, I coined a formula: Customer Experience + Customer Outcomes + Employee Experience = Customer Success. In each one of those dimensions, we can now quantify value back to the customer in the form of outcomes."
– Chris Singh, Chief Customer Officer and Head of Global Success, Blackbaud
On This Episode, You'll Hear From: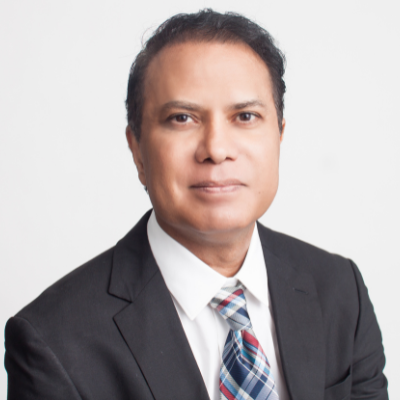 Chris Singh, Chief Customer Officer and Head of Global Success

Coming from SAP, Chris brings 15 years' experience in handling large enterprise customers, thought leadership in business transformations, cloud, experience management and sustainable business practices. He also helped SAP in creating a cloud culture mindset, business model, and organizational changes to succeed in the cloud. These changes resulted in significant gains in CSAT, renewals, incremental cloud subscription revenues and customers achieving their business outcomes. Chris has held key leadership roles in Product and Software Development, Innovation, Services, Engineering and Customer Success. Chris is currently the Global Head of Customer Success at Blackbaud covering Success / Services / Technology / Support and Customer Success Operations. He is transforming the customer experience and driving value-based outcomes for our 30,000 + Customers.
He served on the Board of Advisors at Technology & Services Industry Association (TSIA) and currently at CSM Practice. Chris is a social media influencer and regular guest speaker on customer success, innovation, and value-based technology trends. He was selected as a top 100 Customer Success Strategists and by Churn Zero as 10 Customer Success Leaders to Watch in 2022. He is often a keynote speaker at various global events such as The Customer Conference, TSIA, SAPPHIRE NOW, ASUG Annual Conference.
Chris is an avid cricketer and ice hockey player. He also enjoys creative writing and helping the world to be a better place.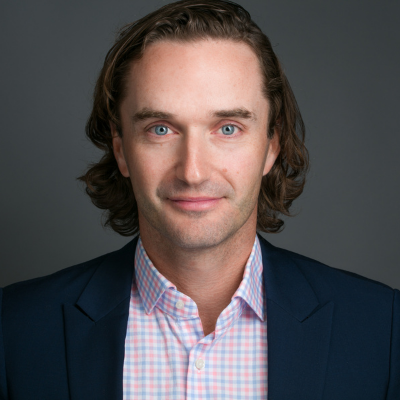 Ross Fulton, Founder & CEO

Prior to founding Valuize, Ross spent over 16 years growing software companies and their partners in go-to-market strategy, sales engineering and customer success leadership roles on both sides of the Atlantic. An Englishman by birth but not by nature…he'll take an espresso over tea every time!
Subscribe To The Customer ValueCast Newsletter