back to all resources
Webinar
How to Leverage Gong Revenue Intelligence to Drive Revenue Retention & Expansion
On Demand Webinar
Leverage the power of Gong revenue intelligence to drive best-in-class Net Dollar Retention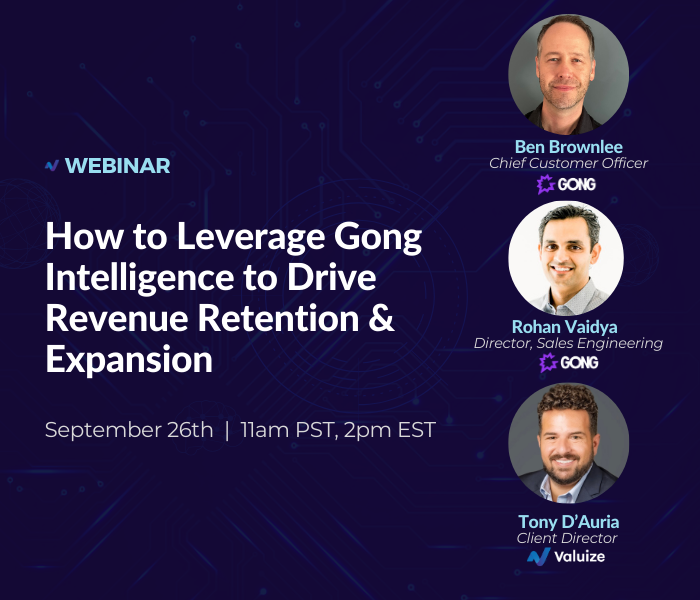 Unlock The Power Of Value-Driving Revenue Intelligence
Value realization for your customers will equal value for your business in the form of revenue retention and expansion. To succeed in the recurring revenue economy, customer value must be more than an abstract idea in your company. Customer value should be driven through your customers' achievement of measurable and verifiable outcomes via usage of your product. Harvesting actionable intelligence from the thousands of conversations happening with your customers to drive this achievement of outcomes with customers is now a reality with Gong.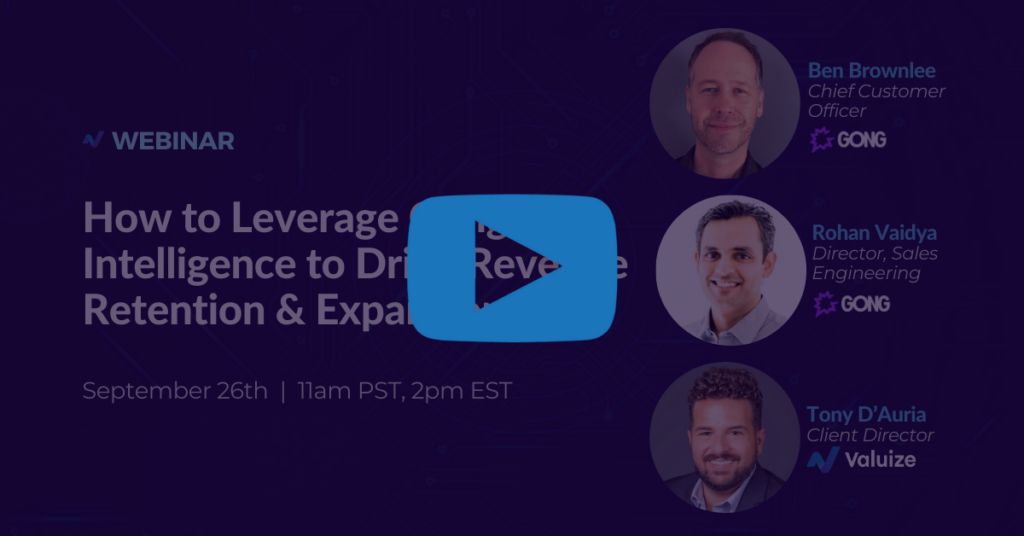 On this webinar, you will learn…
How to leverage Gong intelligence to ask and extract actionable insights that empower your teams to drive efficiencies, make informed decisions and maximize customer value realization
The next generation of revenue intelligence and how it can help you define, deliver and verify customer value more accurately and effectively
How to uncover renewal risks, enhance forecast accuracy and close more deals by triggering health score changes in response to emerging trends and economic changes
Watch Webinar Now
Hear From Three Customer Value Leaders
On this webinar, learn from customer value leaders Ben Brownlee, Chief Customer Officer at Gong, Rohan Vaidya, Director, Sales Engineering at Gong, and Anthony D'Auria, Client Director at Valuize. Together, they will help you explore the potential of cutting-edge revenue intelligence with Gong in order to transform how you engage with customers, deliver value, and drive outcomes to drive best-in-class Net Dollar Retention.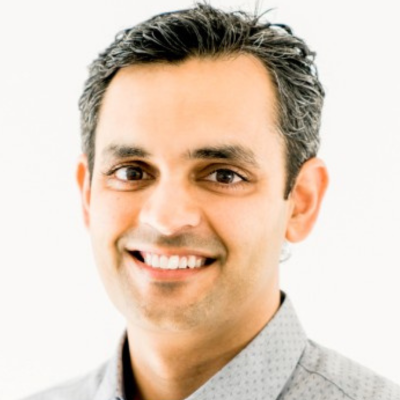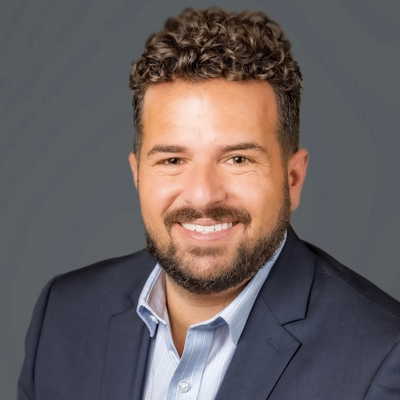 Ben Brownlee serves as the Chief Customer Officer at Gong, spending the past 20 years in customer-facing leadership roles. Prior to Gong, he served as the Global VP of Customer Success at Blackbaud. In his spare times, Ben loves visiting national parks and spending time with his family.
Rohan Vaidya, Director, Sales Engineering

Rohan Vaidya, Director of Sales Engineering, leads a team that helps Gong customer's turn their aspirations into reality. As a seasoned veteran at Gong, he works to create bespoke solutions to help Customer Success teams of all sizes get the most out of Gong's Revenue Intelligence platform. Rohan is based in San Francisco, loves the outdoors and traveling.

With over 12 years of experience in customer success, operations, leadership and process development at companies like BlackBerry and Oracle, Tony is responsible for helping companies define, build and deploy customer success strategies across their organization. Passionate about Customer Success, Tony is focused on delivering scalable outcomes that drive business growth through collaborative problem solving.