back to all resources
Webinar
Curate A Powerful Digital Customer Adoption Strategy
On Demand Webinar
Supercharge digital customer adoption with a state-of-the-art strategy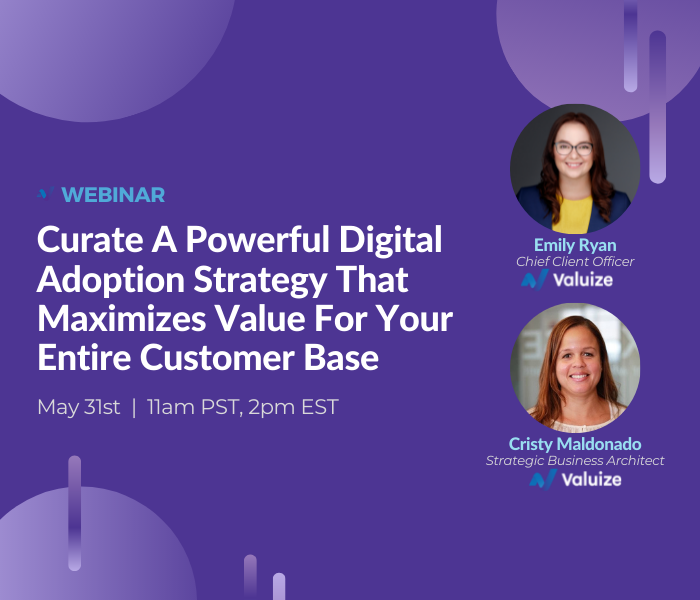 A Cutting-Edge Approach To Digital Customer Adoption
The push for digital adoption is being driven by today's constantly connected customers. Case in point: the global average share of digital customer interactions have almost tripled, from just 20% in 2017 to almost 60% in 2020 (Statista, 2022). In today's digitally-driven landscape, customers from every segment expect engagement that relates to what they're doing at any time, anywhere, in any format and on any device of their choosing. To accomplish this incredible feat, you need a comprehensive digital adoption strategy, driven from the top-down, that provides clear direction and enablement for your customers' Value-Based Outcomes to drive best-in-class Net Dollar Retention.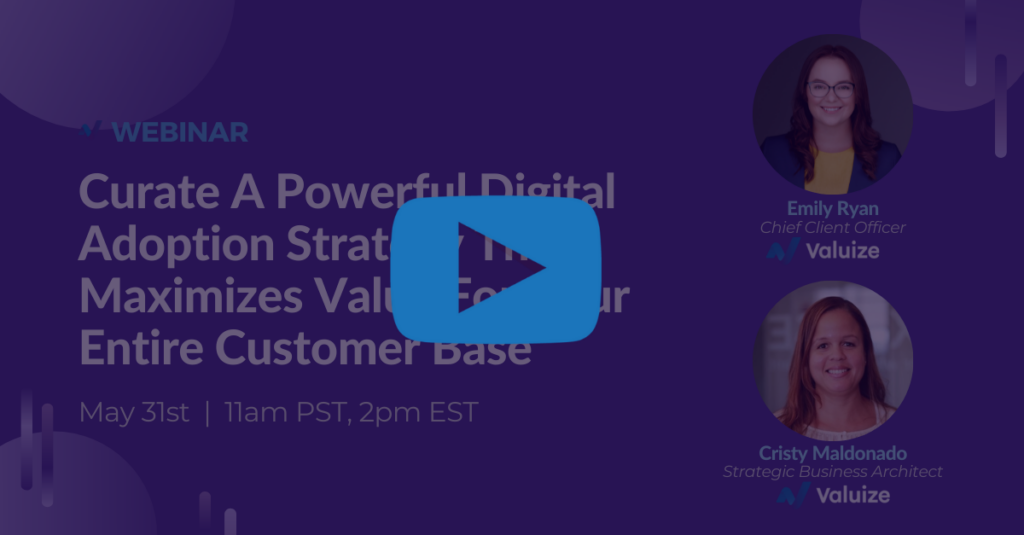 On this webinar, you will learn how to…
Drive a digital customer adoption paradigm shift in your organization that thoughtfully leverages your digital customer adoption strategy and provides ample support for your entire customer base

Leverage out-of-the-box tools that orchestrate your digital adoption strategy and drive customer value realization quicker and more efficiently

Empower your team through an effective change management plan that ensures the success of your digital adoption strategy
Watch Webinar Now
Hear From Two Digital Pioneers
On this webinar, learn from Valuize's digital pioneers – Emily Ryan, Chief Client Officer, and Cristy Maldonado, Strategic Business Architect. Together, they'll explore how you can lead a strategic and process-driven digital adoption transformation for your customers.
EMILY RYAN, CHIEF CLIENT OFFICER

With nearly 15 years' experience coordinating teams across Sales, Post-Sales and Product/Delivery to ensure successful customer interactions, Emily views enterprise business through a unique and collaborative lens. Her unique expertise applying Customer Success Strategy to effectively establish, analyze and scale great customer-centric teams means her impact is not only to corporate revenue and retention, but to the health and productivity of the teams she empowers.
Cristy Maldonado, Strategic Business Architect

Cristy joins Valuize as a Strategic Business Architect with 12 years of experience spanning across Customer Success, Customer Success Operations, Professional Services, and Enablement. She has operated as a Customer Success Manager in the marketing technology industry, led and managed a team of global Customer Success Managers, and operationalized the customer lifecycle using data and technology. She enjoys process and strategy ideation, and she becomes incredibly excited at the sight of process maps.