back to all resources
Press Releases
Christy Ransom and Mathieu Brillon Promoted To SVP Positions
April 21st, 2021
Valuize is pleased to announce that Christy Ransom has been promoted to SVP Client Success and Mathieu Brillon has been promoted to SVP Digital Strategy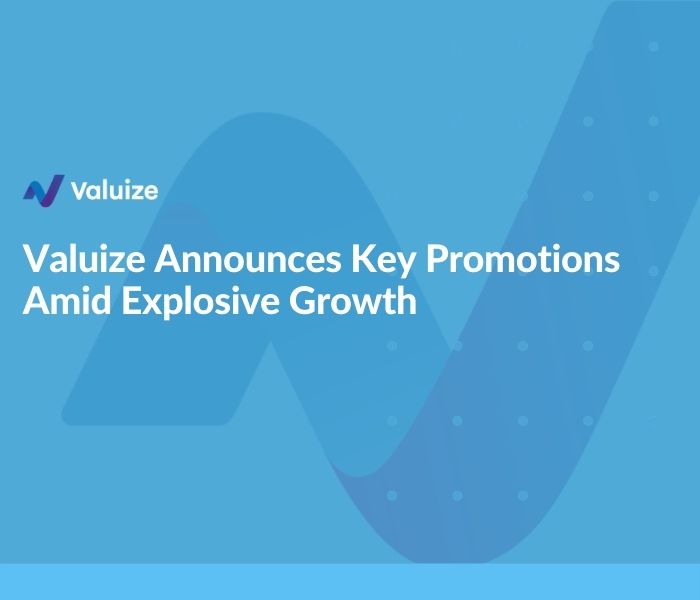 Christy Ransom and Mathieu Brillon Promoted To SVP Positions
Valuize has officially announced the promotion of two key members of the leadership team. Christy Ransom has been promoted to SVP Client Success and Mathieu Brillon has been promoted to SVP Digital Strategy. This announcement follows the recent addition of Scott Landry as President of Valuize and comes at a time of explosive growth for Valuize.
"Christy and Mathieu have been critical to the success of Valuize's journey to becoming the world's most sought after customer success consulting organization and we are thrilled to promote them to these important leadership roles. They are both exceptional customer success strategy and technology thought leaders and passionate team players who consistently exceed all expectations for our company and our clients. These promotions reflect Christy and Mathieu's monumental contributions to Valuize, and our company's commitment to recognizing and investing in excellence," said Valuize CEO, Ross Fulton.
Christy joined Valuize's leadership team in 2020 as Director of Valuize's Customer Success Strategy practice with over 20 years of experience advancing customer success and customer experience strategies in B2B software. As SVP of Client Success, Christy will own client success and outcomes delivery across all Valuize clients, lead and continue to scale an elite team of customer success strategy and operations consultants and continue to help accelerate the growth of the company.
"I'm very excited to expand my role at Valuize and continue reaching remarkable milestones and achievements for both our clients and our company with an incredible team," said Christy.
Mathieu joined Valuize in 2019 as Director of Solutions Delivery. Mathieu has led the design and delivery of cutting edge customer success technology and data solutions across Valuize's client portfolio. As SVP Digital Strategy, Mathieu will drive the development of innovative solutions for Valuize clients by leveraging customer success technology and data to maximize the impact, scale and efficiency of their customer success strategy.
"I'm excited for the opportunity to help accelerate Valuize's expansion by stepping into a more strategic role and growing the scope and scale of the solutions we can offer our world-class clients," said Mathieu.
About Valuize
Valuize is a leading customer success strategy and operations consulting partner to the fastest growing and largest B2B software companies on the globe. Championed by and for Customer Success professionals, the company leverages their team's unique blend of customer success leadership, strategy design, and operations expertise to maximize the value delivered to clients, companies, and communities. Valuize is trusted by industry-leading brands such as Splunk, VMware, HashiCorp, PointClickCare, and Wolters Kluwer.