back to all resources
Press Releases
Two News Leadership Roles Will Support Valuize's Explosive Client & Team Growth
November 16, 2021
Valuize is pleased to announce that Emily Ryan has been appointed Chief Client Officer and Christy Ransom has been appointed SVP People & Culture, effective immediately.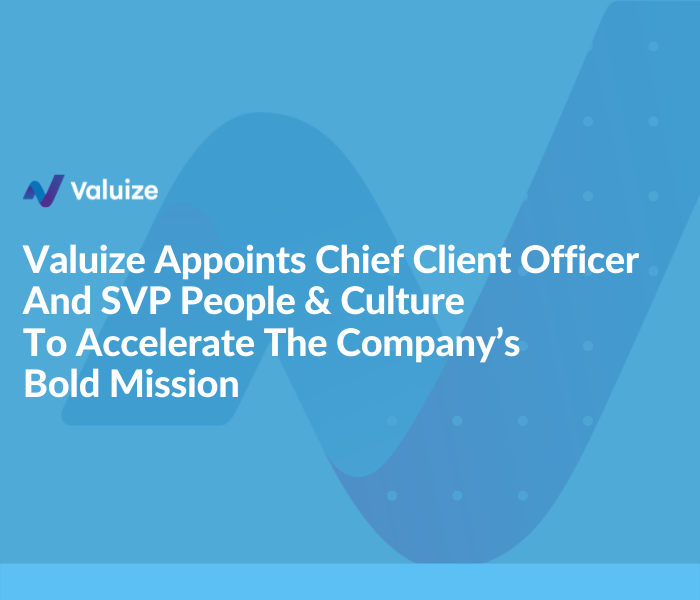 Valuize Announces Exciting New Changes In Leadership
November 16, 2021 – Valuize, the Customer Success consulting partner to the world's fastest growing and largest B2B software companies, today announced changes in leadership and the appointment of Christy Ransom to the position of SVP People & Culture and Emily Ryan to the position of Chief Client Officer.
"Both Christy and Emily's new roles will be crucial as we continue to scale success for our team and our clients," shared Ross Fulton, Founder & CEO of Valuize. "Valuize's people and culture are the epicenter of delivering exceptional outcomes to our clients. I am thrilled to have Christy focus her knowledge and expertise to strengthen Valuize as a company that our team loves to be part of. With Emily as our Chief Client Officer, Valuize will define the future of Customer Success with our clients and execute this through elite consulting operations. With her time serving as Director, Success Management Strategy and Operations at Splunk, Emily has a compelling and unique combination of expertise and experience to take Valuize to the next level in this role."
"Since joining the Valuize team in 2020, I've been amazed by the rate of growth and progress the company has experienced and I'm thrilled to be moving into this new and exciting role," said Christy. "Building a world-class team and culture in Valuize is at the heart of our mission as a company. I look forward to partnering with Ross to enhance and scale our culture and people through strategic investments focused on creating an exceptional employee experience."
Reflecting on her new role as Valuize's Chief Client Officer, Emily said: "At Valuize, we're delivering unmatched outcomes to enterprises seeking to maximize their retention and expansion of revenue through the creation of measurable value for their customers. I'm honored to be in a position to lead Valuize's Client Success organization, employing best-in-class strategy and operations to scale this success for our clients and for Valuize as a market-leading consulting business."
About Valuize
Valuize is a leading Customer Success strategy and operations consulting partner to the world's fastest growing and largest B2B software companies. Championed by and for Customer Success professionals, the Valuize team offers a unique blend of Customer Success leadership, strategy design, and operations expertise to maximize the value delivered to clients, companies, and communities it serves. Valuize is trusted by industry-leading brands such as VMware, Workday, Veritas, Datto, Elastic, HashiCorp, and Wolters Kluwer.