How Can You Effectively Engage With Customers In An Increasingly Saturated Digital Landscape?
In today's digital landscape, technology companies must operate with an "always-on" mindset. Today's customers expect to select the time and place that they engage with organizations – and they expect a quick response, too. According to McKinsey, ¾ of online customers expect service within 5 minutes of making contact with a business online (2016). To meet these sky-high demands, human labor alone isn't enough. Instead, you need to supplement your Customer Success Managers' (CSMs) efforts with a strong digital adoption strategy rooted in data-driven insights.
The challenge is that your customers are increasingly bombarded with cross-channel communications and inboxes full of well-crafted emails from your competitors. How can you create a customer engagement strategy that proactively delivers consistent, relevant and personalized interactions for your customers that cuts through the noise and stands out from the rest?
In this article, we share 5 innovative tools you can leverage to create a proactive and data-driven digital customer adoption strategy and thoughtfully engage your customers with the right mediums and the right messaging at the right time.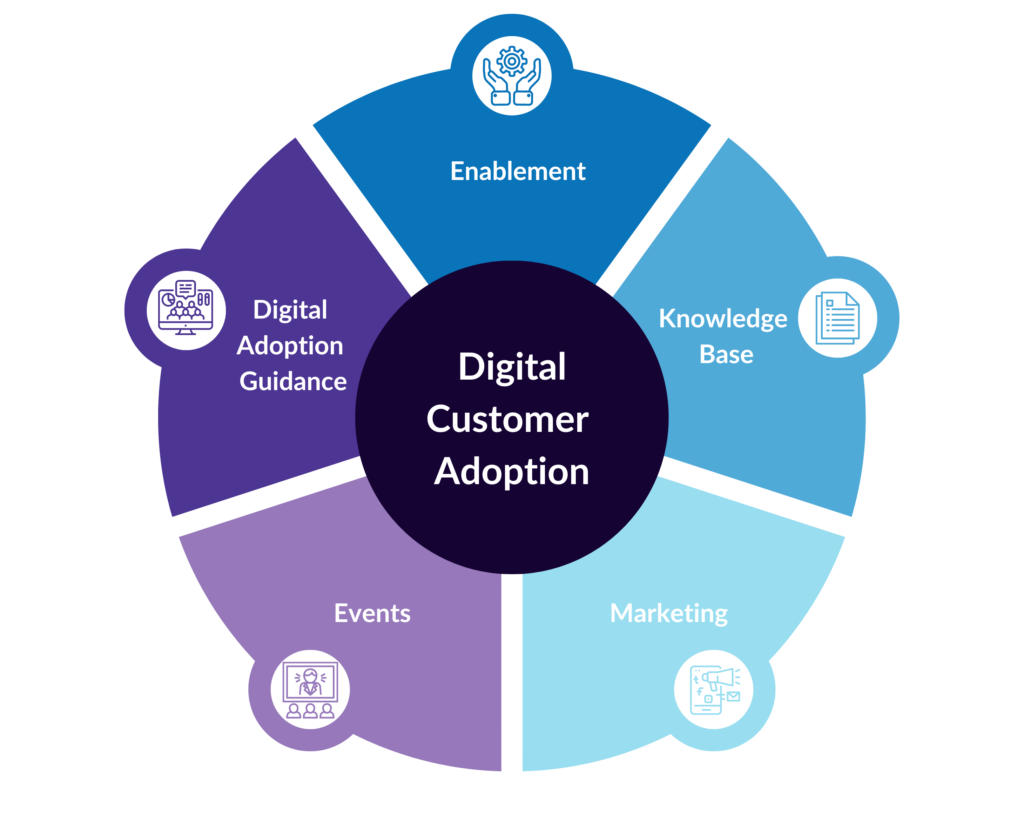 1. Digital Adoption Guidance Tools
B2B technology companies at the top of their game are already using digital adoption guidance tools such as in-app notifications and CTAs. However, the most advanced organizations have revolutionized customer engagement by leveraging their customer data with the following advances in AI and technology to create a truly proactive digital adoption strategy:

Chatbots – In recent years, chatbots have taken the Customer Success and Service domains by storm. If you implement an AI-powered chatbot that analyzes data and speaks to users, you can program it to make recommendations to potential and current customers and answer their questions instantaneously. Chatbots can also use triggers to send relevant messages based on specific criteria such as location, time on page, or the number of pages viewed. Additionally, they facilitate customer engagement after hours, so you don't lose the chance to interact with and help your customers when your CSMs aren't around.
Voice assistants – AI-enabled personal assistants are also growing in popularity as a means for customer engagement. Voice assistants can help you understand and respond to complex conversations, make tailored recommendations, and proactively share updates and reminders. As these voice assistants become more commonplace in consumers' everyday devices, they will play a valuable role in helping you connect with your customers and provide them with a truly omnichannel experience.

Gamification – Gamification can help you keep your community informed and connected through a wide variety of applications for customer engagement. When you put a game mechanic into a non-gaming space, you can motivate people to stay engaged. Here are a few ways it can become a crucial part of your proactive data-driven digital customer engagement strategy:

Celebrate customer milestones
Encourage community interactions through levels and rewards. For example, you could give badges for discussions, support, reviews and more
Facilitate learning in fun way by turning training materials and product information into a game

Push notifications – Push notifications can be used to notify customers about special offers, events, or news. While they are designed to be short and sweet, don't underestimate their impact. Customers must subscribe to receive push notifications so by opting-in, they are already choosing to engage with your company. The secret to crafting powerful push notifications is getting the content and timing just right. You don't want to bombard customers with too many push notifications or send irrelevant information. Not all notifications will be of interest to all customers, so remember to segment your recipients into groups that can be targeted proactively with only the most relevant information based on data-driven insights.
2. Knowledge Base
Assigning CSMs to answer every single customer question is unfeasible and a drain on precious resources for any organization. To facilitate adoption throughout the customer lifecycle, leverage your knowledge base and technical documentation. By creating a robust knowledge base, you can address common and straightforward customer questions with ease, such as: how do I turn on the product? How do I use a specific feature? For more technical and complex questions, you can augment technical documentation that you can publish within the knowledge base section of your website.
The key to optimizing your knowledge base for effective customer adoption is to build custom content. Custom content is content that is targeted to customers who are familiar with your product and informs them of new features, offers product setup and installation guidance, and addresses common questions and concerns. To make sure your custom content actually addresses the needs of your customers, carefully analyze your customer data to spot patterns and create a matrix of your topics to uncover opportunities. If a particular topic is popular or highly requested, create more content on that topic and save your CSMs from having to answer the same question over and over again for every customer.
Take your Knowledge Base to expert-level with Adoption Guidance. Adoption Guidance breaks down your product into achievable use cases, which are intrinsically aligned to your Value Hierarchy, and provides an easy-to-understand approach and support for adopting a use case, all in the voice of the CSM:
The tools, training and resources your customer will need before they begin using the product
How the customer can begin adopting the product and the resources they need to achieve their desired use case
How to measure success and the achievement of the use case
Adoption Guidance is an invaluable tool as part of your proactive customer adoption strategy as it helps customers self-serve and collaborate on their own success and aids your internal teams drive adoption and scale their processes for maximum customer value delivery.
3. Enablement
Video is an exploding medium, especially when it comes to effective customer adoption. While technical documentation is a useful resource, you can supplement this with your Enablement team's Learning Management System (LMS). Through LMS, your Enablement team has probably built a library of in-depth classes that are invaluable to your customer adoption strategy. You can direct customers to this valuable portal to take self-paced lessons so that they can learn more about how to use and optimize their implementation of your product.
4. Marketing
While leveraging Marketing content and thought leadership resources is a common element of most organizations' adoption strategy, there is a powerhouse marketing tool that is criminally under-utilized: social media. Social media has provided companies with a platform that taps into three essential components of customer engagement – community, storytelling, and connection. Social media has allowed brands to forge their own personality for customers to connect with, build brand loyalty and foster stronger customer relationships.
For many customers, social media is the first point of contact for questions and complaints; therefore, it's critical to monitor and respond to customer comments proactively, especially the negative ones. Customer complaints are also opportunities for deeper engagement and feedback, so your company should take the time to address them properly and incorporate them as data points in your customer data model for a 360 view of your customer.
Another crucial element of Marketing is assigning a distinct Retention Marketing branch within your organization that is laser-focused on product-led growth and driving retention. This team must work closely and collaboratively with Customer Success to run events and client-facing communications specifically aimed at driving adoption and, ultimately, retention.
5. Events
Because of the differing roles and responsibilities across your cross-functional departments, they may each run their own external events focused on particular customer needs across the customer lifecycle, all of which you can incorporate as part of your overall adoption strategy. For example, Marketing and Enablement teams usually run webinars, TechTalks and Lunch & Learns that you can leverage for your strategy. Webinars are particularly useful because they are live, interactive events that give you an excellent opportunity to listen to customer questions and connect with them 1:1. Beyond events, each of your customer-facing departments possess a plethora of resources that your CSMs can also leverage.
Create A State-Of-The-Art Digital Customer Adoption Strategy
Digital customer adoption is all about building trust and driving value across the entire customer lifecycle. By leveraging data-driven insights, you can create a truly proactive customer adoption strategy that enables personalized content and touchpoints with an omnichannel experience for maximum customer value realization.
Watch our recent webinar with Valuize's Chief Client Officer, Emily Ryan, and Strategic Business Architect, Cristy Maldonado, for a deeper-dive into how you can curate a powerful digital adoption strategy.